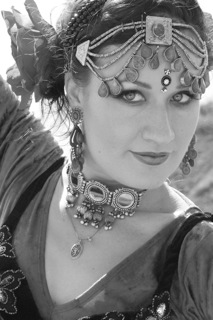 *Dancer * Teacher * Performance Artist*
Sarah is all about the music! She lives to dance and dances to live!She learned to dance as a tiny girl, bouncing around in her mother's arms and free-styling all over the house to every imaginable kind of music -from opera to Motown! Although she has always loved to dance, it was not until college that Sarah truly discovered her passion for dance performance.
After one Middle Eastern Dance class, an unquenchable fire was ignited and she has been dancing up a storm ever since! She hasstudied traditional belly dance with renowned dance artist and instructor Angelika Nemeth, in whose company she danced for several years and has been blessed to study Tribal/ American Tribal Style/various stage, fusion and ethnic dance forms from the Middle East and India with some of the greatest American and international teachers (Sharon Kihara, Rachel Brice, Sashi, Momo Kadous, Meera, Sooz and many others.) Sarah is constantly stretching her abilities, knowledge and repertoire by researching, teaching and performing in a multitude of venues. In addition to instructional and performance videos, she has danced with The Angelika Nemeth Dance Ensemble, Ban-dal, Move Bollywood and the Astra Von Berlifitzing Dance Co. She performs in and co-produces the "Bands and Bellies" showcase with Alec Marken . As a professional belly dance performer and instructor, the "BnB" shows are very special for Sarah. She is passionate about supporting, educating and connecting the richly diverse arts community and writes on Arts and Dance for several different publications in order to further this aim. The BNB shows have created an even richer opportunity to "share the love" and share the art. As a teacher, she loves building relationships with her dance students and watching them grow in their expression and confidence.  She hopes that everyone will catch the same joy and passion for life that dance has given her.  Visse d'arte, visse d'amore!
Sarah loves to add joy, passion and art to by performing/teaching at special occasions of all kinds- theatrical events, festivals, parties, weddings, showers and more! Ask her about bringing dance to your special event!* Private instruction for individuals and groups available!
BELLY DANCE PERFORMANCE & INSTRUCTION with Sarah al Nour
www.danceandsingsarah.com
www.facebook.com/Sarahbellydance
bellyssimadancer@yahoo.com
www.youtube.com/zarahbee